Scott A. Trueman
Director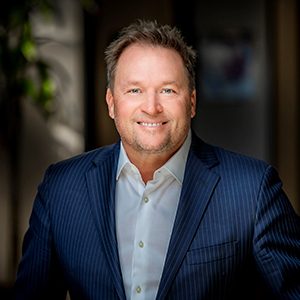 Professional Details 30 years investment management experience
BS, Finance - University of Nebraska at Omaha
Affiliated with Wells Fargo Advisors Financial Network since 2022
Formerly Senior Vice President / Senior Financial Advisor with Wells Fargo Advisors, Vice President with Smith Barney / Morgan Stanley
Series 7, 63, 65 registrations, variable annuity, and life insurance licensed CA Insurance License 0D24999 Resident State CA
My path to my career passion started quite early. My father was an officer in the United States Air Force for 28 years, and upon his retirement pursued a career as a financial advisor. I remember the many dinner table conversations about the economy and the stock market, and I was so intrigued that I asked him to help me buy my first mutual fund at the age of 17. My fascination continued as I pursued a degree in business with a major in Finance.
After graduating, my dream of following in my dad's footsteps to become an advisor was put on hold. Financial firms turned me away because I lacked experience, so I went to work for MONY (Mutual of New York), learning a great deal about life insurance which I still use in my practice today. A year later an opportunity arose to become a licensed sales assistant and support one of the top-producing advisors at Norwest Investments in Nebraska (which later merged with Wells Fargo). I worked with him for two years and he had a tremendous impact on my career as my guide and mentor. He eventually pursued an outside opportunity and I found myself taking his job and never looking back. I feel fortunate to have found something I'm so passionate about: helping people achieve financial freedom. I truly love what I do.
Life changes, opportunities present themselves, and it is not uncommon for advisors to move firms. After five years with Norwest Investments/Wells Fargo Advisors in Nebraska I made the decision to move back to Santa Barbara, California – where my heart was. I worked at Banc of America Investments from 2000-2007 as a Vice President and Financial Advisor. During BofA's turbulent merger with Merrill Lynch, I moved to Smith Barney and remained there for five years but due to Morgan Stanley's acquisition of Smith Barney, I moved back to Wells Fargo Advisors in 2012, where I have remained ever since.
In 2022, after 29 years in the business and working for large firms, I transitioned to Wells Fargo Advisors Financial Network (FiNet)- their Independent Channel. Together with my good friends and colleagues Kai Cogswell, Director and Financial Advisor, and Kelly Siedschlag, Vice President and Senior Client Associate, we established Pacific View Wealth Management in Santa Barbara-a satellite office of Westlake Private Wealth Management. Westlake has been a FiNet practice for over ten years and they made the transition easy since I've known two of the three principal owners for more than 18 years. Westlake Private Wealth Management is now a collaboration of fourteen advisors and support staff, delivering wealth advisory solutions at the highest level to select families in California and many other states
I want to work with good people who care and have integrity. To me, clients are not just accounts; they are relationships. Most of my client relationships have been with me for more than two decades and many of those relationships have flourished into multiple-generational friendships. I view every client as unique, and I believe no single financial strategy fits every client's needs. One of my primary objectives is to have clients who choose to work with me because they view me as fair, honest, respectful, and caring. I intentionally keep a manageable group of clients to provide exceptional service and deliver a positive client experience. I see myself as a financial advisor for the next 20 years and I ask myself why I would ever retire from something that brings so much joy, passion, and drive to my life.
Away from the office, I spend time with my wife Kelly, my son Jack, and my daughter Elle. They are my support system, my biggest fans, and they make me smile and laugh every day. I played baseball my whole life and continue to play competitive baseball today, taking a team to the Men's Adult Baseball World Series in Arizona every October. Baseball and golf are the two outlets that help keep me focused in life.
My wife and I have a passion for Special Needs children because our wonderful son is Autistic. Once we learned this, our lives were changed for the better! Beyond my family's own autism journey, we have recently broadened our goal to assist local low-income families by facilitating vital diagnostic assessments at the Koegel Autism Center at University of California at Santa Barbara. Additionally, my wife is very active in our Elementary School PTA and their annual toy drive supporting CASA (Court Appointed Special Advocates).