Richard Groscost
Director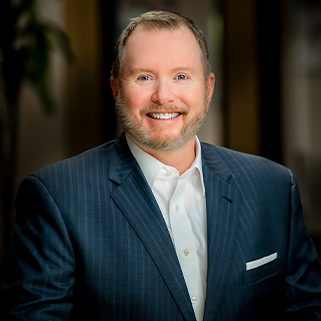 Professional Details 20+ years banking and investment management experience
BA, Accounting – The University of Utah; MBA, Finance & Strategy – The University of Chicago Booth School of Business
Affiliated with Wells Fargo Advisors Financial Network since 2022
Formerly Managing Director – Investments with Wells Fargo Advisors, Associate Vice President with Lehman Brothers
Series 7, 66 registrations, variable annuity and life insurance licensed CA Insurance License 0E25262 Resident State CA
I began my financial career in 1993 as an Assistant Controller for a regional distribution company. By age 27, I was promoted to the CFO/Controller position where I eventually helped in the sale of the company to a Fortune 500 company. While in this capacity, I oversaw the company's retirement plan and helped to better educate our employees on the importance of investment planning. After the completion of the merger, I went to work for a large construction company where I served as Vice President of Real Estate Investments and served on their advisory committee.
After earning my MBA in 2001, I joined Lehman Brothers and began advising private clients and institutional investors. In 2003, I joined Wells Fargo Advisors to better help meet my clients' complete financial needs including investments, insurance and the opportunity to provide clients with access to products and services offered through Wells Fargo Bank, N.A. Starting my career in the dot-com bubble/crash, working through the "great recession" of 2008 and the Covid crisis of 2019 has re-confirmed the importance of investment planning and maintaining a long-term perspective. I use Envision®, Wells Fargo Advisors' proprietary planning tool to help clients create their own personal financial roadmap. I believe the culmination of my financial experiences and my conservative approach to investing has given me a seasoned and practical approach to investment plans. My love of the entrepreneurial spirit led me to become an independent advisor in 2022 with Wells Fargo Advisors Financial Network. I believe by being independent, I will be able to deliver a truly unbiased approach to help my clients' meet their financial goals.
I earned my undergraduate degree in Accounting from the University of Utah and completed my MBA with concentrations in Finance and Strategy from Booth School of Business at The University of Chicago. I believe education never ends. I regularly attend higher education conferences and have received Wells Fargo Advisors' Platinum Council distinction from 2011-2022. The Platinum Council distinction is held by a select group of Financial Advisors within Wells Fargo Advisors Financial Network as measured by completion of educational components, business production based on the past year, and professionalism. Additional criteria, best practices and team structure, may also be used to determine recipients.
As a native Utahan, I developed a great love for the outdoors. I am an avid hiker, fisherman, skier, and hunter. I relocated from Chicago to California in 2001 and I currently live with my wife and youngest son in Silver Strand Beach. In my free time, I enjoy being involved with my children's various activities. I try to stay active in my local community and have served on several youth committees, and as an Eagle Scout, I have been active on numerous Boy Scout fund raising committees. I enjoy recreational cooking and am trying to perfect the reverse sear of a good steak!